The Vincent Thomas Bridge in San Pedro finally got its lights Sunday — and with them, a new dose of respect.

At least that is the hope of the locals in the broad-shouldered port neighborhood who have been fighting for the last 17 years to light the third-longest suspension bridge in California.

The 160 baby-blue lights, strung along the length of the 2.2-mile-long bridge at a cost of $1 million, were officially switched on at dusk in a ceremony attended by hundreds of San Pedro residents, including Los Angeles Mayor James K. Hahn.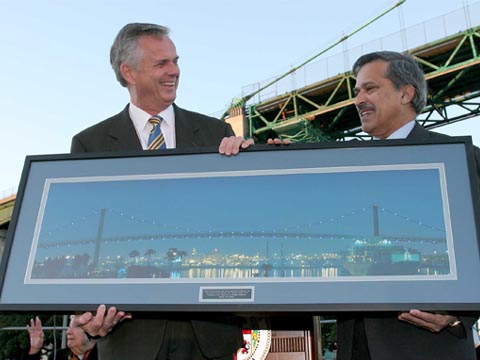 Pervaiz Lodhie presenting a picture replica of the Vincent Thomas Bridge to Los Angeles Mayor Jim Hahn

Spectators gathered along the waterfront and on the deck of a nearby cruise ship to ooh and aah and hope that the new nighttime spectacle would bode well for the community's future.

"I absolutely love it — it's beautiful," said Derek Tadashi Takeuchi, who owns an art gallery in downtown San Pedro. "It signifies the new direction of San Pedro. It's a sight for sore eyes."

San Pedro residents are generally proud to contrast their hard-working community with the flash and glitter of Hollywood or Bel-Air.