Washington, DC: A delegation of leading businesses from the United States visited Pakistan from March 15-19 to explore opportunities for investment. The delegation, organized by the US-Pakistan Business Council at the US Chamber of Commerce, held meetings with senior Pakistani government officials in Islamabad to discuss avenues for promoting increased investment from the United States. Ambassador Ashley Wills, US Trade Representative for South Asia, accompanied the delegation to meetings with government officials in Islamabad.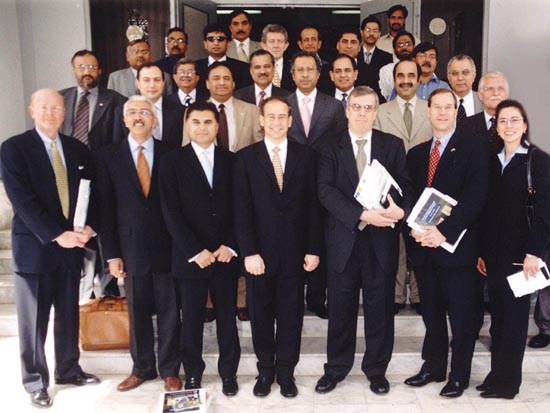 The US delegation which visited Pakistan comprised Pakistani-American businessmen, including Mr. Pervaiz Lodhie of Ledtronics
The US business delegates also met with US Ambassador Nancy Powell to discuss the role of the US Embassy in business facilitation, US assistance to Pakistan, and US-Pakistan relations in general. Ambassador Powell encouraged trade and investment in Pakistan.

The delegation met with the Minister of Foreign Affairs Mian Khursheed Kasuri, the Minister of Finance Shaukat Aziz, the Minister of Commerce Humayun Akhtar Khan, the Federal Minister for Investment and Privatization, Dr. Hafeez Shaikh, and the Minister of Information Technology Awais Ahmad Khan Leghari.

The delegation praised the success of the Government of Pakistan, including the country's growth rate and increasing foreign currency reserves. The delegates suggested areas where they felt the government could improve the climate for foreign direct investment. These areas include: clarification and implementation of intellectual property rights laws, as well as effective execution of government policies to promote foreign direct investment. The delegation also stressed the need to promote Pakistan as an attractive venue for US investment.