ISLAMABAD, Oct 15 (APP): National Commission for Human Development (NCHD) conferred on certificates among teachers in recognition of their contributions for quality education and raising literacy rate in the country.
Chairperson NCHD Nafisa Shah, speaking on the occasion as chief guest, said that teaching can bring visible and crucial changes in society. She said that in recognition of their services Prime Minister Syed Yusuf Raza Gilani has announced October 5 as National Teachers Day and the whole week will be celebrated as teachers' appreciation week.
Nafisa said that NCHD has advocated for involving a broad representation of stakeholders in policy making. "We have received quality input from Teachers' Unions and we are of the view that Teachers' unions must be formally included in development of education policy."
She also informed that NCHD has more than 16,000 volunteer teachers in both government and community schools. This year, she added, they would increase number of literacy centres to 17,000 throughout the country.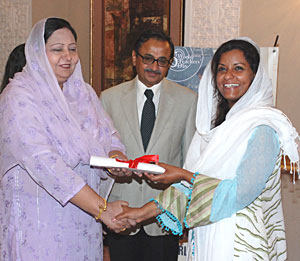 The award for best management was received by Dr. Shaheen Khan, D.D Federal Directorate of Education; Dr. Tanvir Kiyani, Director Training Federal Directorate of Education, and Prof. Shahista Pirzada, Principal of Islamabad College for Girls.
Teachers who were awarded with certificates included Prof.Anwar Ali Khan from Islamabad College for Boys g-6/3, Prof. Durdana Israr, Federal Government College for Women F-7/2, Prof. Anwar Ali khan, Islamabad College for Boys, G-6/3, Dr. Mujahid Zamir,Islamabad Model College for Boys, I-10/1, Prof. Shaista Pirzada,Islamabad College for Girls, F-6/2, Prof. Zafar Ullah Khan Buttar,F.G.Postgraduate College of Commerce, H-8/4, Prof. Sohaila Ansari,Islamabad Commerce College for Women, F-10/3, Nasrullah Shah Kazmi, F.G. Boys Model School, I-9/4, Ghulam Dastgeer, F.G.Boys Model School G-7/4, Nazma Khan, F.G.Girls Higher Secondary School, I-9/1,Best Education District Officers Management certificates were awarded to Dr. Shaheen Khan from Director General Federal Directorate of Education, Dr. Tanvir Kiyani, Director Training Federal Directorate of Education and Prof. Shaista Pirzada Principal Islamabad College for Girls F-6/2.